MMMMMMMargarita Chicken! The fantastic flavor of tequila cooked into the chicken with subtle hints of sweetness. The gang is all here in this flavor profile. Tequila, lime and orange all come together to create the best ever Margarita Chicken. This is one recipe you have to try!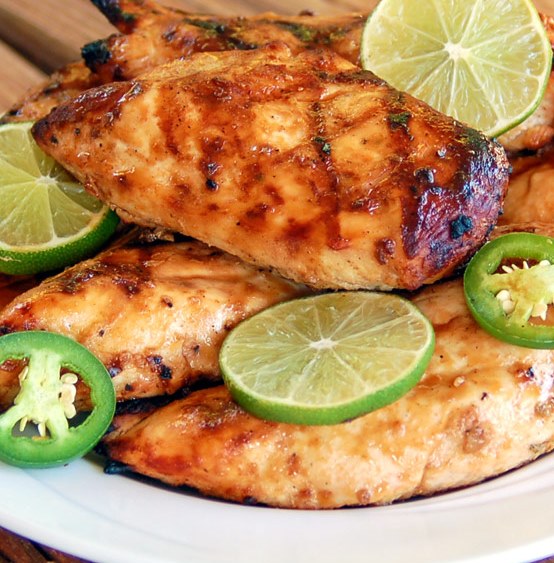 INGREDIENTS:
2/3 cup chopped fresh cilantro
2 tablespoons coarse black pepper
2 teaspoons garlic powder
2 teaspoons onion salt
1/2 cup margarita mix
1/4 cup lime juice
1/4 cup orange juice
3 tablespoons tequila
3 tablespoons triple sec
2 tablespoons honey
1 cup light olive oil
6 skinless, boneless chicken breast
halves
Jalapeno if you'd like
DIRECTIONS:
Place cilantro, pepper, garlic powder, and onion salt in the bowl of a blender. Pour in margarita mix, lime juice, orange juice, tequila, triple sec, and honey. Puree on high speed until smooth, then reduce speed to medium-low, and slowly add the olive oil; blend until creamy.
Place chicken breasts in a resealable plastic bag or glass bowl; pour marinade over the top and toss to coat. Refrigerate for 5 hours.
Preheat your grill for medium-high heat and lightly oil grate.
Remove chicken from the marinade, shake off excess, and discard remaining marinade. Grill the chicken until tender and juices run clear, approximately 7 minutes per side.