A banana split on the grill? Sure, why not? Bananas have never tasted so good…especially when grilled to caramelized perfection! Today we put a warm twist on a cold classic. This is the perfect dessert for any barbecue, kids slumber party, or even a lazy breakfast. Top off this classic parlor dessert with decadent chocolate fudge, your favorite ice cream, a dollop of whip cream, and garnish with a maraschino cherry.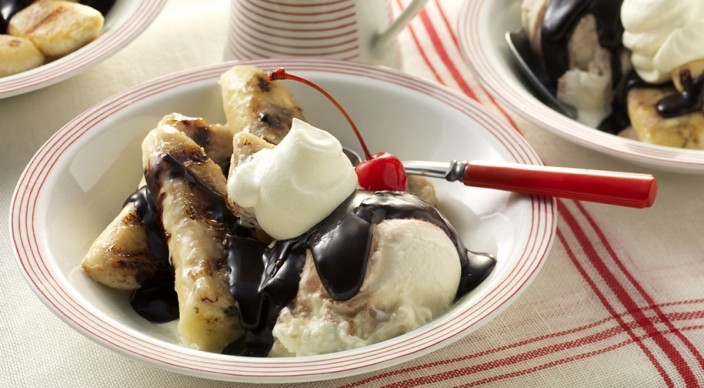 Serves: 6 // Prep time: 15 minutes | Grilling time: 3 to 4 minutes
INGREDIENTS
SAUCE
1 cup heavy whipping cream
½ cup light corn syrup
½ cup granulated sugar
¼ cup unsweetened cocoa powder
8 ounces semisweet chocolate, chopped
2 tablespoons unsalted butter
1 cup chilled heavy whipping cream
2 tablespoons confectioners' sugar, sifted
6 large, firm but ripe bananas
1 tablespoon unsalted butter, melted
1 pint vanilla or cherry ice cream
6 maraschino cherries
INSTRUCTIONS
In a saucepan over medium heat, bring the cream, corn syrup, sugar, and cocoa powder to a boil, whisking constantly. Remove from the heat and add the chopped chocolate and butter. Whisk until smooth. Let cool to thicken. Before drizzling the sauce on the sundaes later, rewarm it in a microwave oven in 15-second increments until warm but not hot.
Using a handheld electric mixer on medium speed, beat the chilled whipping cream until the trail from the beaters is just visible, about 2 minutes. Add the confectioners' sugar and continue to beat until soft peaks form. Cover and refrigerate until ready to use.
Prepare the grill for direct cooking over medium heat (350° to 450°F).
Cut each banana lengthwise in half (do not peel), and then brush the cut side with the melted butter. Grill the bananas, cut side down, over direct medium heat, with the lid closed, until warm and nicely marked, 3 to 4 minutes (do not turn). Remove from the grill and gently peel the bananas. Place two banana halves (you may need to cut them in half to fit your bowl) in each of six bowls or sundae dishes. Top with ice cream, chocolate fudge sauce, sweetened whipped cream, and cherries. Serve immediately.